From floating lanterns to epic water fights and monkey banquets, Thailand festivals are some of the most incredible in Southeast Asia. The Land of Smiles is widely known as a paradise of soft-sand beaches, elephant-filled jungles, glittering temples and frantic cities. However, it's the country's unique annual celebrations that really steal the show. Here are the fantastic festivals in Thailand you have to experience.
Festivals In Thailand
1. Songkran, Thai New Year Festival
Do you like the idea of a giant, three-day water fight? Then you'll love the most famous of Thailand festivals: Songkran. All over the country locals and tourists alike take to the streets to attack each other with water guns, hoses, and buckets of icy water. This is all to celebrate the start of the Thai New Year, which is thought of as a time of cleansing and renewal. This is symbolized by pouring water and smearing white talcum paste on people to bring luck and prosperity.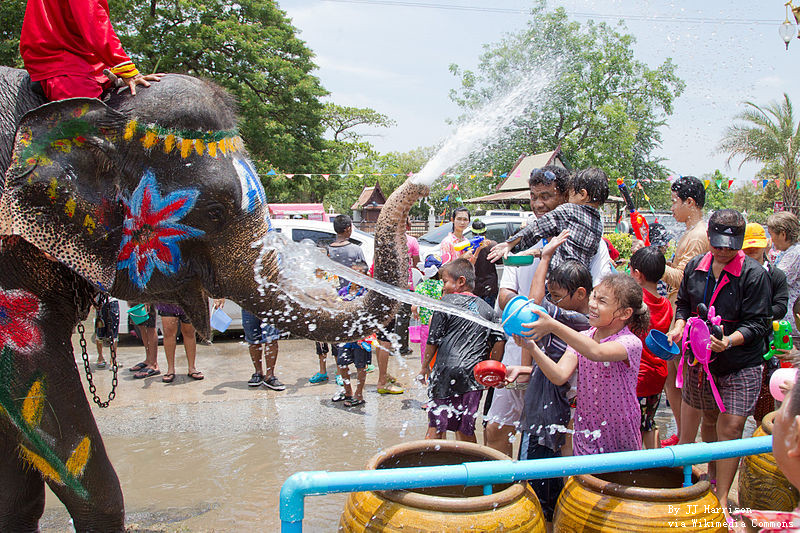 Songkran is a major event in the Buddhist calendar, making it the most important Thai festival. During Songkran, Buddhists visit temples to pray, light candles and make merit as well as cleanse each other with water. On the main day of celebrations, a procession of Buddha statues, monks and floats passes through the streets and Buddhists pour water over the statues. Tourists are welcome to take part in Songkran celebrations and are even singled out for special drenching by Thai locals.
2. Yi Peng, Thai Lantern Festival
Imagine thousands of paper lanterns, lit by flickering candles, floating into the night sky against a full moon. This moving spectacle is the highlight of the Yi Peng festival and thousands of people flock to northern Thailand every November to witness it. However, the lantern release is just one part of the three-day Buddhist festival. Celebrations also include religious events, lantern displays, music, parades, fireworks and food, making Yi Peng one of the most exciting Thailand festivals.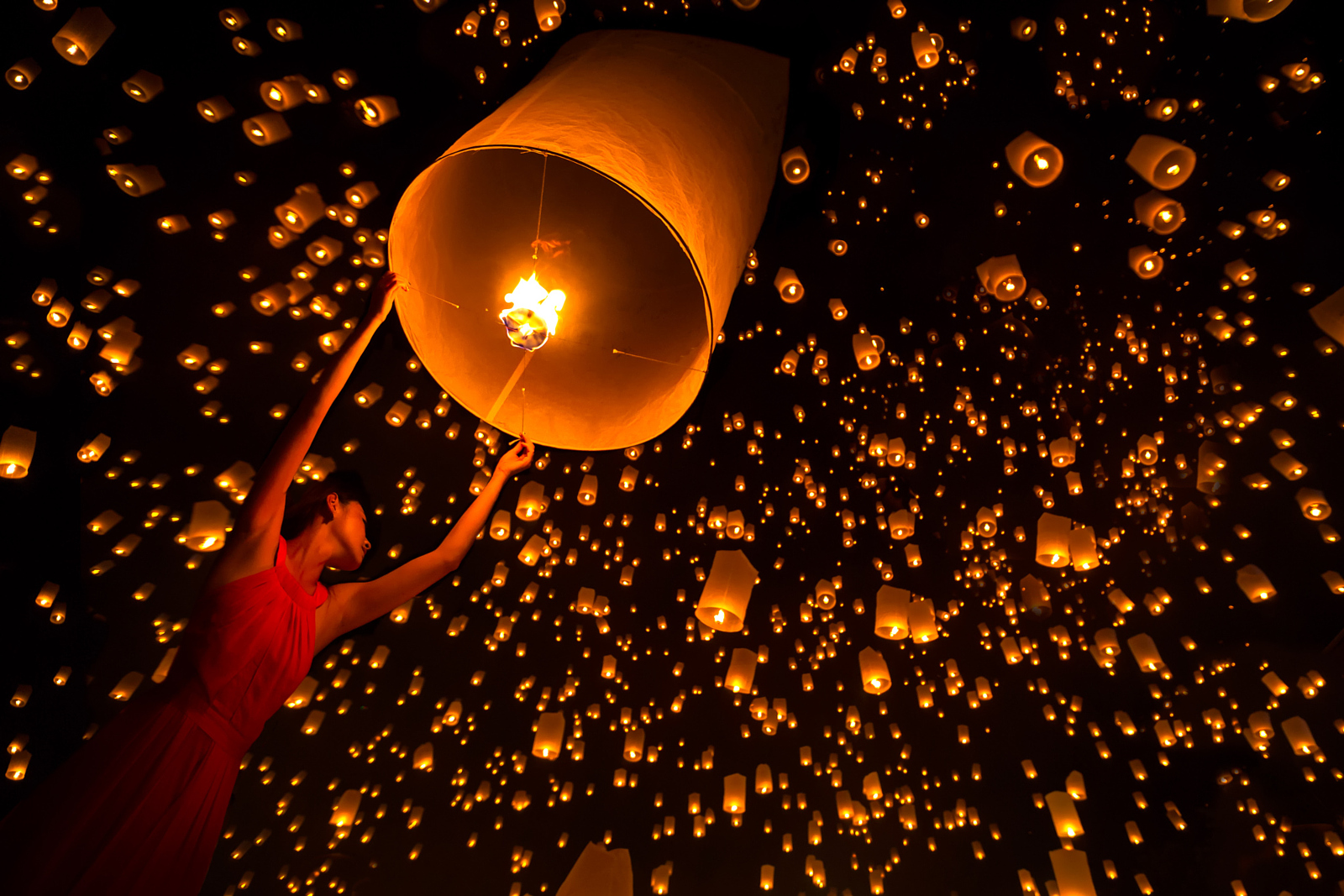 Most importantly, Yi Peng is a time for Buddhists to release bad memories, make wishes for the future and pay respect to Buddha. The act of releasing a lantern symbolises letting go of the past and moving from darkness into light. It's an ancient, sacred ritual which originated in the Lanna (northern Thai) kingdom. Traditionally, only monks released lanterns but today anyone can take part in the festivities, provided they are respectful.
3. Loy Krathong, Thai Festival of Light
 During Loy Krathong, people all over Thailand gather by the water after dark to release floating baskets (Krathongs) filled with burning candles. As the rafts drift away they carry with them a clipping of the owner's hair or nails to symbolise letting go of bad luck and negative thoughts. Flowers and coins are also placed in the baskets to give thanks to the water goddesses for providing rain during the rice harvest season. The flickering candle itself pays respect to Lord Buddha.
Loy Krathong has evolved into one of the largest festivals in Thailand. The three-day event is filled with parades, beauty contests and firework displays. Krathongs are traditionally made from banana tree trunks or lilies. In Bangkok, there's a river parade of large-scale Krathongs made by government offices and businesses, with a prize for the most creative design. Loy Krathong is closely tied to Chiang Mai's Yi Peng festival as it occurs on the same night and focuses on the same Buddhist principles of releasing the past and making wishes for the future.
4. Ghost Festival (Phi Ta Khon)
Combining religious traditions, local handicrafts and fun-loving party atmosphere, Phi Ta Khon is a 3-day festival that's renowned for the colorful masks worn by thousands of locals. The masks are ghastly, stretched faces decorated in bright, gaudy colours. The origin of the festival is a mixture of animist and Buddhist beliefs. It's supposed to recreate the legend of when a party that was so fun, everyone wanted to attend – living or dead. The Ghost Festival is held on the weekend of the 6th full moon of the lunar calendar. It usually has the main parade on the Friday (dressing up as a ghost optional), with pageants and music on the Saturday and Buddhist ceremonies on the Sunday.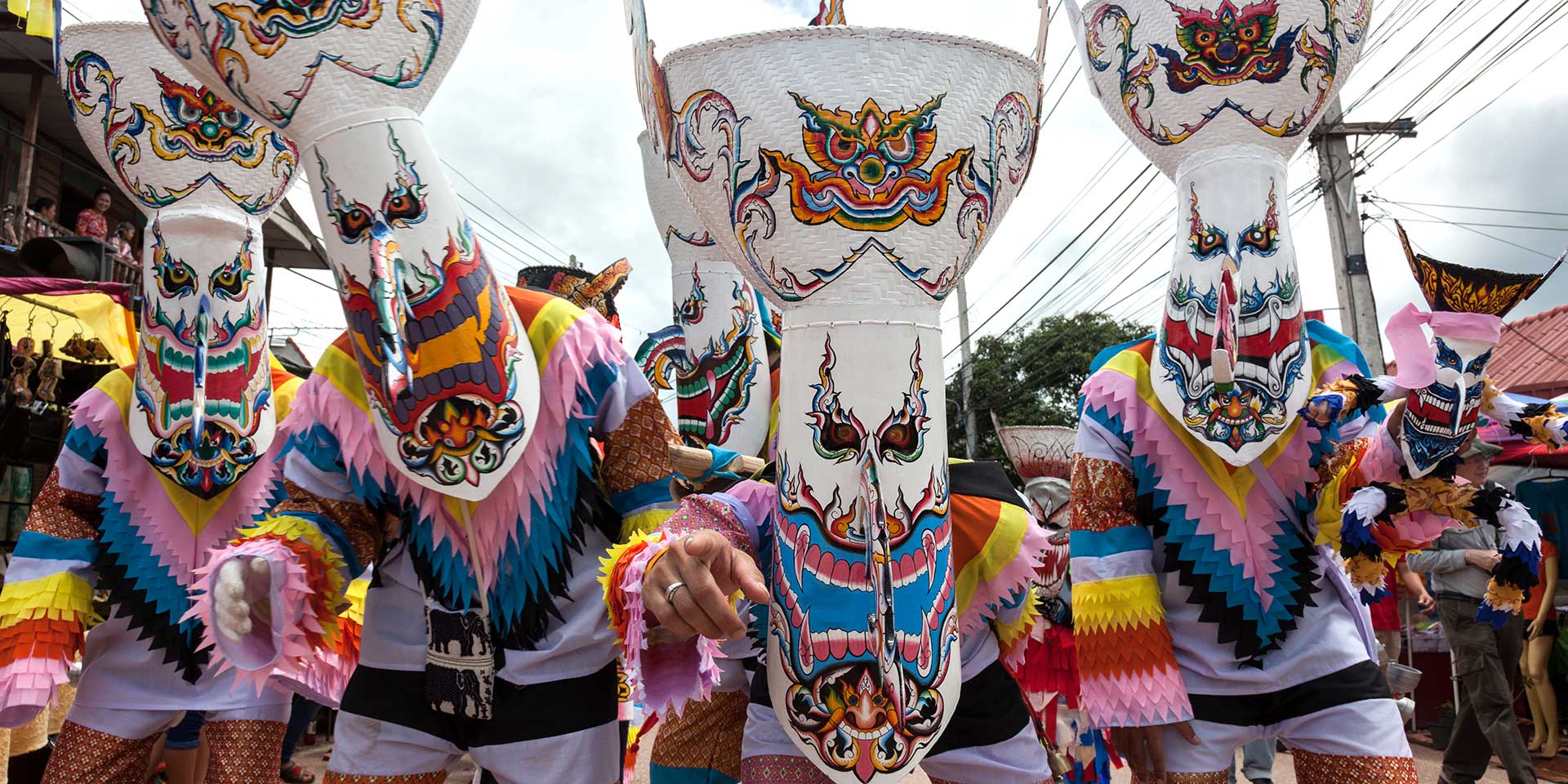 Located in Dan Sai Town in Loei Province, the Ghost Festival is quite hard to get to. It's easiest from Udon Thani (a 3-hour bus journey) or Chiang Mai (5-hour bus journey). From Bangkok, buses leave from Mo Chit Northern Bus Terminal about 5 times a day. It's around a 7-hour journey. As Dan Sai is a small town, accommodation gets booked up quickly, so make sure you book your hotel or guesthouse early.
5. Buffalo Racing Festival (Wing Kwai)
Buffalo racing, and the festivities that go on afterwards make this one of Thailand's best festivals. This tradition has been taking place for well over 100 years and now brings in the crowds – Thais and foreigners – from far and wide. The racecourse is around 100 metres long, located right in front of Chonburi City Hall. Crowds line the racecourse and cheer on the jockeys, who ride bareback on their trusty beasts. It is amazing to see how fast the massive beasts can actually run!
Chonburi is quite easy to reach from Bangkok, around 1 hour away from both Bangkok and Pattaya. The buffalo racing is the main attraction, but there are plenty more bovine activities to enjoy, such as a buffalo beauty contest, buffalo decorations and Muay Thai demonstrations. There's a small fair with rides for smaller children, and other fete games – definitely look out for the greasy pole game, which asks participants to climb up the pole to win 500 baht (or try to, at least). While it doesn't quite compare to the prestige of Ascott, the Melbourne Cup or the Kentucky Derby, Chonburi's annual buffalo race festival is still a hugely fun day out.